This indicator, which is available for the popular MetaTrader 4 platform, provides real-time information on key economic events and their expected impact on various currency pairs. Understanding how the Forex Factory Calendar Indicator MT4 is used is vital for any trader. This tool helps traders in predicting potential market movements based on economic events. It provides a comprehensive view of the economic calendar, right within the MT4 platform, making it easier for traders to make informed decisions.
Benefits of Using the Forex Factory Calendar Indicator MT4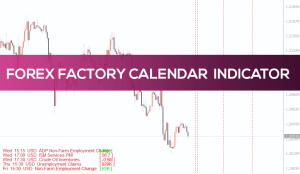 Using the Forex Factory Calendar Indicator MT4 comes with numerous benefits for traders, regardless of their experience level. Here are some of the main benefits:
Real-Time Information: The indicator provides real-time information on economic events, allowing traders to make timely decisions.
Easy Access: The indicator integrates seamlessly with the MT4 platform, providing easy access to the economic calendar without needing to leave the platform.
Enhanced Decision Making: By providing information on the expected impact of economic events, the indicator helps traders make informed trading decisions.
How to Install the Forex Factory Calendar Indicator MT4
Installing the Forex Factory Indicator on your MT4 platform is a straightforward process. Here are the steps you need to follow:
Download the Indicator: The first step is to download the indicator file, usually available from the Forex Factory website.
Install the Indicator: Next, open your MT4 platform, and from the "File" menu, select "Open Data Folder". Then, navigate to the MQL4/Indicators folder and paste the downloaded file.
Restart MT4: Finally, restart your MT4 platform. The indicator should now be available in the "Custom Indicators" section of your MT4 terminal.
Conclusion
The Forex Factory Indicator MT4 is a valuable tool for any forex trader. It allows traders to stay informed about key economic events and make informed decisions based on real-time information. However, like any tool, it's effectiveness relies on how well a trader understands and uses it.
Suggestion
Before you start using the Forex Factory Calendar Indicator MT4, consider a few things. First, ensure you understand that forex trading is a venture that requires a considerable amount of knowledge and understanding. Jumping into the market without proper preparation can lead to potential losses.
Secondly, don't hesitate to ask questions and seek help. The Forex trading community is a great place to learn and share knowledge. Leverage this as much as you can.
Lastly, remember that success in trading doesn't happen overnight. It requires time, patience, and a lot of learning. So, keep your spirits up and keep learning!